* CHURCH CALENDAR PLANNING

> Attention all Ministry Leaders and Auxiliary Heads, please contact your groups and prepare your calendar dates for 2023. The Pastor is scheduling Program Committee Meetings for Wednesday January 11, 18, and 25th. Please plan on attending and bringing your program dates for the 2023.
> Rev. Drungoole is sponsoring a blanket drive from now until February 1, 2023. Please bring your new or gently used blankets to the church for sorting to be distributed. The people will be blessed!
* MARRIAGE MINISTRY CRUISE
> The Marriage Ministry is inviting all church members to join us on a Fantastic Voyage to the Caribbean:
Departing: November 26, 2023
Returning: December 3, 2023
Cruise Ship: Harmony of the Seas
Ports of Call: 1. Galveston, 2. Roatan Bay Islands, Honduras, 3. Costa Maya, Mexico,
Cabins starting at $1158. for 2 persons, kids 12 and under $138. per child. Please contact Rev. Dr. Timothy Price Sr., Rev. Priscilla Price, or Sis Stephanie Runnels for additional details.
* PRAYER LIST

> The Church Clerk is requesting that the Prayer List be restarted for the new year. Please send your Prayer List requests to pilgrimbranch23@gmail.com or submit them to a deacon on or before Wednesday of each week. She is also requesting that all announcements be submitted to the same email address on or before Wednesday of each week.
* VIRTUAL BIBLE STUDIES

> The Virtual Bible Studies and Intercessory Prayer meetings have returned to their regularly scheduled times. Please join us to study God's Word and pray for those who The Lord places on our hearts.
YouTube Live Church Anniversary Service Link
Sunday June 26, 2022 – 3:00pm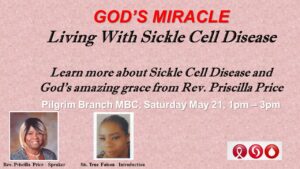 YouTube Live Stream Service Link
Living With Sickle Cell Disease
Saturday May 21, 2022 – 1:00pm