* FALL SEMI-ANNUAL CHURCH MEETING

> The PBMBC Board of Directors has scheduled the Fall Semi-Annual Church meeting for Wednesday,

December 7, 2022

at 7:00pm. Please plan to attend as we prepare for 2023!
* ADOPT-A-SENIOR MINISTRY

> The Adopt-A-Senior Ministry would like to thank everyone who is participating in the ministry as a sponsor. Keep up the good work and Happy Thanksgiving!
* CHRISTMAS CAROLING
>
Members of Pilgrim Branch will be performing a variety of Christmas Carols at the IHOP restaurant located at 22607 Tomball Parkway, Tomball, Texas 77375 (Intersection of Spring Cypress Road and Tomball Parkway) from approximately 6:00 pm to 8:00 pm on the following dates:

December 14,15,16

. All are encouraged to come out and join in for this festive occasion. Please see Pastor Pickens if you have any questions.
* YOUTH MINISTRY CHRISTMAS PROGRAM

> Please support the Youth Ministry as they prepare for their Christmas Celebration! Practices are happening and parts are being assigned. To make sure your young person doesn't miss out, please contact Rev. William Inman or Sis Tyra Inman for more details.
* VIRTUAL BIBLE STUDIES

> The Virtual Bible Studies and Intercessory Prayer meetings will have a schedule change from November 27th through December 2022. Please tune in this week for additional details.
>The crane and construction equipment you see to the north of the church is for Klein ISD's new communication tower. If you have any additional questions, please see a member of the Board of Directors.
YouTube Live Church Anniversary Service Link
Sunday June 26, 2022 – 3:00pm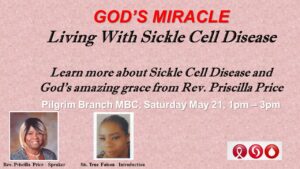 YouTube Live Stream Service Link
Living With Sickle Cell Disease
Saturday May 21, 2022 – 1:00pm